April 23, 2021 – NASA and SpaceX successfully sent another crewed mission to the International Space Station this morning as their Falcon 9 rocket lit up the pre-dawn skies at Kennedy Space Center. It is the first time astronauts have journeyed aboard a "veteran" spacecraft, reusing the very capsule and rocket that took two astronauts to the ISS in May 2020.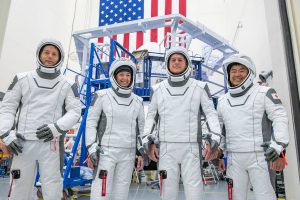 The crew is scheduled to reach the ISS around 5:10 am on Saturday, after a 23-hour ride, and they will spend six months in orbit, conducting science experiments and maintenance.
The mission's pilot, NASA astronaut Megan McArthur, is married to a previous occupant of the SpaceX capsule, Bob Behnken, who flew in that historic flight last May that returned American astronauts launching from the U.S.
Army veteran Shane Kimbrough is also a NASA astronaut and is the mission's commander. Since joining the space agency in 2000 he has spent 189 days in space.
Joining the team from Asia, mission specialist Akihiko Hoshide, of the Japan Exploration Agency (JAXA), has spent 124 days in orbit on the ISS since 2008.
Rounding out the crew as the first European Space Agency astronaut to be a member of a NASA-SpaceX mission, Thomas Pesquet, mission specialist, will add to his impressive track record of spending six months on the ISS in 2016.
Congratulations on another successful launch.