Supersonic Aviation Project Gains Momentum
March 30 2021 — Aerion Supersonic is well on its way to reshaping the general aviation industry with the AS2 supersonic commercial aircraft designed to reach speeds of Mach 1.4 (over 1,000 mph) with the ability to accept 100% biofuels. The decision to launch manufacturing and assembly of the AS2 at MLB (Melbourne-Orlando International Airport), located just 25 minutes south of Viera, will allow Aerion to tap into the highly-skilled local workforce as well as attract some of the best aerospace talents in the world to the Space Coast.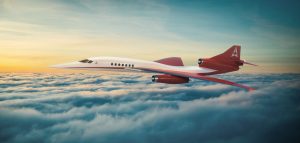 "We are building the next generation of high-speed transportation networks that will revolutionize global mobility without leaving a carbon footprint on our world," said Tom Vice, Aerion Supersonic Chairman, President & CEO. "Our AS2 business jet – the world's first privately built supersonic aircraft – is the first stage in that exciting endeavor."
"The Space Coast has become a hub for the aviation and aerospace industry, and my administration continues to make it a priority to expand this high-wage and important business sector," said Governor Ron DeSantis. "We are thrilled that Aerion has selected Melbourne for its new global headquarters and will create 675 new jobs here in Florida."
"I've lived here since 2009. It's a great place to raise a family," said Vice, a Satellite Beach resident. "It's exceptional schools, elementary through high schools through universities. If you look around and just think about the number of companies that are here — Northrop Grumman, Boeing, Blue Origin, SpaceX, L3Harris — there's just an incredible amount of talent here," he said.
Aerion Supersonic is partnering with NASA Langley Research Center in Hampton, Virginia, on a five-year joint study. The NASA research study will bolster development of Aerion's next-generation AS3 passenger jet, including parametric suitability of propulsion and thermal management technologies; integrated power generation; and cabin systems.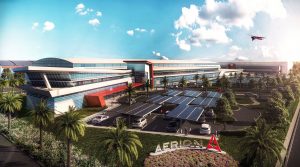 Aerion Park– located at the northwest corner of MLB--plans to create at least 675 new jobs by 2026 as part of a multi-year $300 million investment. Pre-orders for the AS2 have hit an amazing $10B.
"Brevard County is home to the pioneers of space exploration and now the pioneers of sustainable supersonic transportation." said Economic Development Commission of Florida's Space Coast President and CEO Lynda Weatherman. "Aerion Park raises the profile of the Space Coast as the premier site for the most innovative aerospace companies in the world and is an example of what can be accomplished, even in the most challenging times, when the EDC and its state and local partners work together."
ABOUT AERION SUPERSONIC
Aerion, the industry leader in supersonic travel, is pioneering a new generation of high-speed mobility solutions that significantly reduce the time and friction of travel while leaving no carbon footprint behind. The Mach 1.4 AS2 business jet is the first step towards this new paradigm of global mobility – powered by the world's first efficient supersonic engine and designed for carbon neutral operation.